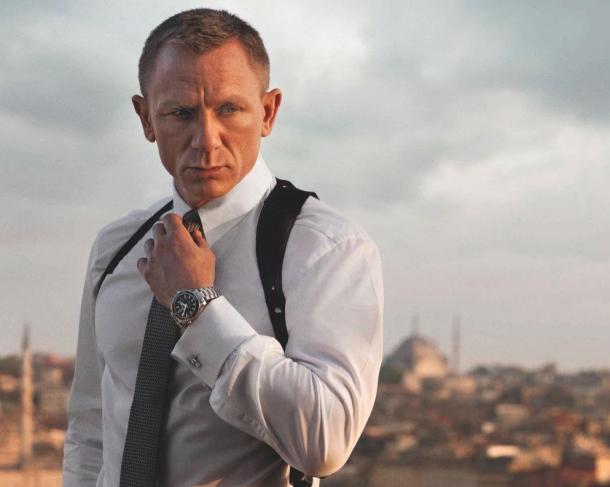 Bond is a discerning gent with style and we know it. No matter where Bond is taken, in the name of his country, he will look sharp. Grooming is no obstacle for 007 – and we spoke to a number of experts to get some tips on how to shave like our favourite secret agent! Tip – the secret is in the oil….
One of the most underrated products in a man's shaving routine is a good pre shave oil. One of the first questions we ask when a gent complains about shaving irritation is if they use a pre shave oil? Of course there are other factors to a good shave such as the quality of other shaving products used.
Elysium Magazine's style editor Sam believes the perfect shave is done with a precision razor and, more importantly, a fine pre-shaving oil. Having searched the market he lists his favourite collection of tried and tested shaving oils combined with a shaving gel.
A good pre shave oil will hydrate, protect skin and soften the beard whilst allowing the blade to glide smoothly over skin and through hairs thus reducing 'tug and pull' resulting in much less irritation. Another benefit is the pre shave oil forming a coating over the skin to directly protect it from the blade.
L'Occitane Shaving Gel – 150ml
This luxury shaving gel creates a silky foam with a light L'Occitane scent and the balm helps to immediately soothe the skin and layer the spicy, aromatic L'Occitane scent. The blade easily flows over the skin to avoid cuts and razor burn. A easy and slick way to shave with minimum fuss. The 150ml canister lasts a long time and works well with the post shave balm. However, mixed with a pre-shave oil, you will get results that even Bond would envy!
Truefitt & Hill – Ultimate Comfort Pre Shave Oil 60ml
This pre shave oil combines 10 essential oils including avocado and safflower to condition and nourish the skin before shaving. Tangerine grapefruit and bergamot oils lend to an energizing and refreshing scent. The refreshing scents wake up the skin and provides an additional layer of protection when saving. No more cuts – a smooth face with a precision shave.
Brummells of London price: £16.50 
Gentlemen's Tonic – Pre Shave Oil 50ml
This pre shave oil softens hairs and improves razor glide to help achieve a closer shave. Avocado, Jojoba, Grape Seed and Black Sesame oils give a non-sticky blend and can also be applied underneath a shave soap to prevent dryness. Bond would love the luxury scents provided by the pre-shave oil from Gentleman's Tonic. it provides a neat layer for the shaving gel to glide over.
Brummells of London price: £19
Bluebeards Revenge – Pre Shave Oil 50ml
Designed to moisturise your beard prior to applying shaving cream, the pre-shave oil helps your razor do all the hard work providing a smoother shaving experience and doing it's own bit to eliminate nicks and bumps. To use massage a splash of oil into your beard until it is barely visible as just a sheen, then get to work lathering up with a quality shaving cream. The results are impressive and visible from your first shave.
Bluebeards Revenge Price: £9.99
While Bond is busy saving the country from terrorists and political meltdown, its good to know you can find some great products to keep you discerning.