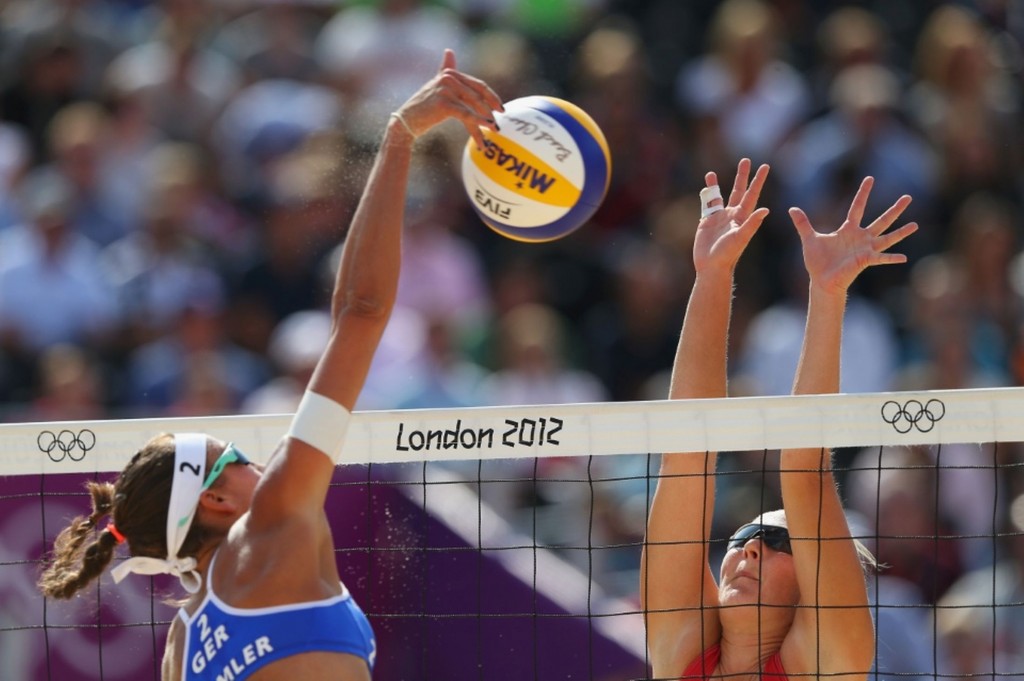 Elysium Magazine looks back fondly on the Horse Guards Parade where about a year ago, the Duke and Duchess of Cambridge rode in their chariot to happiness. It's all change with the gentlemen of the Horse Guards Parade replaced with bikini-clad toned women fighting to throw a ball over a net, on a sandy beach type setting. Mix this with a commentator in charge of a random playlist of music and you get one of the most popular sports in the Olympics – volleyball. If you managed to get hold of tickets for the extremely popular event you should follow the rules to ensure you remain discerning – no matter how great Zara Dampney looks in her bikini!
Music Maketh the Man
You have already seen it – a song is played in between every point and believe it – the playlist is a random selection of the best of cringe. So far Benny Hill's theme song has greeted many of the sports fans and the Venga Boys has gotten the crowd confused. Think wedding music cheesy pop – fight it and you won't win. Accept the music and remember it's the ladies on the beach that will keep you entertained. That makes sense.
The Mexican Wave
So far we have seen crowds react badly to individuals who have failed to participate in the long standing tradition of the Mexican Wave. Even our own Boris Johnson got involved in the action and despite some fumbling – got the crowd going. Remember: you're a stone's throw away from the queen's bedroom watching half-naked women playing volleyball on a fake beach. This is no time to be shy.
The Dress Code
So far, we have seen larger louts dressed in Union Jacks, Dutch in all out orange and youth in all out hoody swagger. We are well into our Summer Of Style so ensure you are dressed for the occasion – nothing wrong with some attire to ensure you are discerning in the crowd and in the pub for most-match drinks.
Knowledge is Power
The everyday gent will approach the volleyball and discuss the odds on favourite winning gold based on the national level of "hotness" that women portray. Yes, we love a good debate and would love a Brazil vs Sweden final based on looks but know that Team GB were beaten by Japan and that the USA team are looking hopeful having secured their position within the last eight. The Czech Republic team are looking good….
So there you go – Elysium Magazine will be tuned in for the remaining heats this week leading up to the final. Are you lucky enough to get tickets? Send us a Tweet with your view from the rafters! Further information can be found from the official London 2012 website.
Beach volleyball is on every day until the Women's Final on August 8 and the Men's Final on August 9.